The company:
Based in Northampton, Sandwell UK Ltd is a specialist finishing company. It has traditionally operated within the automotive industry, working predominantly with racing and top class road car projects.
Over the last 16 years, the Towcester-based company has built a reputation for quality and service. It is regarded as second-to-none in its field and is now the "supplier of choice" to many high-end engineering and design operations in the performance automotive sector.
The challenge:
The team at Sandwell quickly realised that to continue its track record of success, investment in advance plant and equipment was required. This would allow them to offer some of the most advanced multi axis shot peening possible. With a strong focus on process and quality of service, Sandwell also felt that it needed to increase its precision and production to keep up with its rate of growth.
The solution:
The plan to achieve this was to develop to a new technical centre, which opened at the end of 2012. The technical centre features integrated robotic systems and structured light 3D scanning which incorporates software developed in a co-operative project with The Manufacturing Technology Centre (The MTC).
The Sandwell team believes that its technical centre will push its services to the forefront of surface engineering innovation, allowing them to work with more complex components and feedback detailed information to its customers.
The project was made possible through inward investment and external grants which include, the Innovation Enterprise Fund (INV-ENT) provided by Northamptonshire County Council. Software development has been part funded by the Transport iNet who are supported by the European Research Development Fund (ERDF).
"The technical centre will help to create a higher level of automation as well as providing us and our customers with detailed technical feedback. This will help improve turnaround time and efficiency."
Colin McGrory, Technical Director at Sandwell UK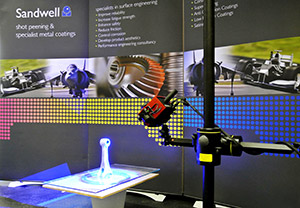 "The support from the Transport iNet was invaluable to us. Without their assistance and the resulting funding streams they gave us access to, the technical centre would never have been such a success."

Colin McGory, Technical Director at Sandwell
About the Transport iNet
The Transport iNet is funded by the European Regional Development Fund (ERDF) with the aim of increasing the level of innovation in the East Midlands, thus helping to improve business competitiveness, margins, sustainability and growth. It enables specific sectors to work together, share ideas, technologies, intelligence, innovation and create a link between industry and the academic community.