Surface Generation find the right components with the Transport iNet
The company:
Formed in 2002, Surface Generation Ltd manufactures moulds for the world-wide carbon composites sector and has clients in Europe and North America producing everything from military helmets to bodywork for aircraft. Looking to further develop in the aerospace sector, Surface Generation wanted to find a way to improve the speed and control of the manufacturing processes used in production of composite parts.
What they do:
Rutland based Surface Generation is an internationally recognised technology company that creates cutting edge mould tools based on its patented Reconfigurable Pin Tooling technology. The company creates moulds predominantly for aerospace but has significant experience working across a range of sectors including automotive, motorsport and defence.
The Challenge:
In 2008 Surface Generation noticed problems with the way current processes heat up and cool down moulds during the composite cure cycle. Traditionally, this is achieved by putting the mould into either an autoclave (essentially a large pressure cooker) or oven, which heat the mould at a controlled rate. However this is energy intensive and Surface Generation saw an opportunity because while the same heat is applied to thick and thin sections of the component it potentially overheats fragile parts causing damage – wasting money on re-work.
Surface Generation's response was to come up with an innovative system that would be able to control the temperature of individual areas of the mould. Building on the Reconfigurable Pin Tooling system the technology uses a bed of adjustable square pins, each supplied with its own controlled heat at a range of temperatures customised to each part of the mould. By precisely targeting energy input, the system can produce parts far faster while at the same time using significantly less energy compared to ovens or autoclaves.
Having developed the concept Surface Generation decided that it needed external expertise to help get the project off the ground, specifically introductions, technical know-how and financial support to help design and develop the equipment.
The Solution:
After searching for support, the company met with the Transport innovation Network's (iNet's) Innovation Adviser Sam Clarke at the end of 2009 and quickly pulled together a programme to work on the project in March 2010.
As well as being on hand with assistance and advice throughout the project, the Transport iNet provided the company with emda and ERDF subsidised support worth £10,000 which enabled it to start developing the new system.
At the same time Surface Generation were introduced to a number of industry bodies which allowed it to introduce the Heated & Cooled Reconfigurable Pin Tooling system to potential customers.
The Outcome:
The project was an immediate success and with support from the Transport iNet, Surface Generation was able to rapidly bring its concept to market. The company now is the first in the world to have a product like this with significant domestic and export sales opportunities from OEM's, Tier 1 suppliers and materials vendors.
Quote:
"Without the advice and support from the Transport iNet we wouldn't have been able to rapidly develop the system. The iNet's knowledge and capabilities provided excellent input in areas where we lacked knowledge. A couple of companies have tried to create something similar in the past but failed due to cost and technical issues, but with Transport iNet help we have been able to develop a new system which will revolutionise the way moulds are heated all over the world."
Ben Halford of Surface Generation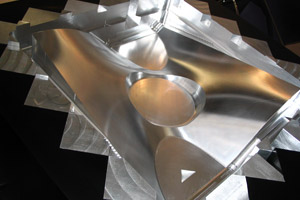 "Going forward, we will continue to work with the Transport iNet to find new ways to develop the system. We have just been awarded a second set of matched funding which we will use to work with the Transport iNet to develop the more control and increase energy efficiency."

Ben Halford, Surface Generation