Pro-shift innovation moves into top gear thanks to Transport iNet support
The company:
Roy Tansley, Managing Director of Spondon based Pro-Shift, developed his original Gearshifting System for his own personal use after losing his lower left leg in a motorbike accident. Pro-Shift Technologies Limited was launched at the beginning of 2005, specialising in designing, developing and manufacturing semi-automatic Paddle-Shift Gearshifting Systems for sequentially geared vehicles world-wide.
The Challenge:
Originally servicing customers in the automotive market, Roy wanted to develop a gear shift system especially for motorbikes and particularly for a TT sidecar racer. After designing the closed loop 'bump and blip' system, Roy realised external financial support would be needed to bring it to market.
The closed-loop bump and blip system allows gears to be changed quickly at full throttle and without a clutch. The on-board computer monitoring the speed at which the gears are shifted shows upshifts of 24 milliseconds, compared to more than 70 for conventional systems.
The Solution:
Pro-Shift had previously worked with Transport iNet and successfully received funding. For this reason, they decided to approach the iNet again in June 2011, not only to apply for 50% of the £16,000 project cost but to tap into the team's knowledge and strategic business support.
After securing £8,000 to develop the extremely complex design, electronics, circuitry and software, a basic prototype was evolved into a fourth generation of Gearshifting Systems.
The Outcome
The closed loop bump and blip system has been incredibly successful. The system was on the winning bike of the legendary sidecar racer Dave Molyneux and passenger Patrick Farrance who notched up two wins at Isle of Man TT race.
Roy Tansley of Pro-shift said:
"The TT is recognised as the toughest race in the world and the success of the bike featuring the bump and blip system will hopefully put our technology in the spotlight. We believe this is easily the fastest manual flat-shifter commercially available – we're couldn't have got this far without the funding support we received from the Transport iNet."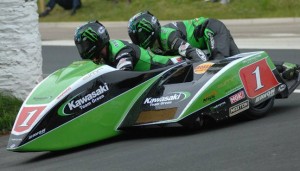 "The TT is recognised as the toughest race in the world and the success of the bike featuring the bump and blip system will hopefully put our technology in the spotlight. We believe this is easily the fastest manual flat-shifter commercially available – we're couldn't have got this far without the funding support we received from the Transport iNet."

Roy Tansley, Proshift