Neville Precision Engineering's first grant application brings additional capabilities and capacity
The Company:
Neville Precision Engineering Ltd was established in 2006, with a family manufacturing history stretching back over 100 years. They saw a need in the market for a company to specialise exclusively in the CNC machining of aluminium extrusions, an area in which they have over 15 years' experience. They have based their growth on technical strength, the quality of their people and products and the reliability of their service.
Early 2012 saw the company move from its original rented premises, to a much larger and newly renovated location in Pinxton, Derbyshire. This has provided a solid foundation for future expansion and enables the company to explore opportunities in potential new markets.
As a company, the goal of Neville's was never to be the biggest – only the best – investing every year in their technology infrastructure.
What they do:
Neville Precision Engineering Ltd offer a range of services including:
• 3D Modelling, design and prototyping of aluminium extrusions
• Aluminium sourcing and stock holding
• CNC Machining, fabrication and assembly
• Fully finished anodised or painted products
• UK and European Sourcing
They have experience in an extensive range of sectors including aerospace components, automotive components, coach building, commercial transport, motorsport and rail among others.
The Challenge:
The company had opportunities to work with additional automotive companies in the supply of aluminium extrusions such as door steps. Two new machines were required in order to deliver recently acquired long term contracts for new customers and to be able to take advantage of these other opportunities. The two additional machines would give the company additional capabilities and capacity.
Firstly they needed to purchase an ultra-speed 4 axis CNC vertical milling machine which uses the latest fibre optic plc technology. This machine would give them the capability of machining all 3 sides of the profile in one operation, and also to machine 2 parts simultaneous from one length of raw material without the normal pre-sawing operation.
They also needed to improve their inspection capabilities with the purchase of a coordinate measurement machine (CMM). This machine will transform the companies inspection capabilities for current customers and enable it to become a supplier to other key customers that demand this capability.
The Solution:
With the support of the Transport iNet LUMINATE ERDF Grant the company was able to bring forward the purchase of a 4 axis CNC vertical milling machine and a CMM coordinate measuring machine for inspection of production components.
The Outcome:
Without the support of the Transport iNet Neville Precision Engineering Ltd would not have been able to purchase the CNC machine and inspection equipment.
Both machines required the employment of new operatives and the company hope to increase the head count further as production builds through 2015. Several new commercial products were added, including products like:
Key impacts: new product, growth in employment and new in-house technology
Quote:
"This is the first grant I have ever applied for. I found the application and claims process straightforward and the support from the Transport iNet team was excellent. I would definitely apply for a Transport iNet grant in the future."
Edward Neville, Managing Director, Neville Precision Engineering Ltd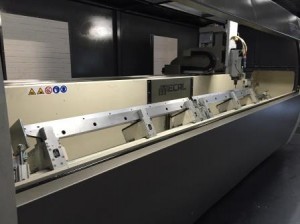 "This is the first grant I have ever applied for. I found the application and claims process straightforward and the support from the Transport iNet team was excellent. I would definitely apply for a Transport iNet grant in the future."

Edward Neville, Managing Director, Neville Precision Engineering Ltd