The company
Delta Motorsport formed in 2005 and specialise in the design and engineering of race cars and road cars for the motorsport and automotive industry. Delta Motorsport wanted to develop its high performance vehicles by creating a low carbon vehicle that would increase both driver performance and energy efficiency of component parts.
What they do
Delta Motorsport is a design and engineering consultancy operating out of Silverstone, Northampton. It produces high performance race cars and provides engineering support and advice for race teams including UK Formula 3 and the Superleague Formula. Delta Motorsport has also created race cars for leading Grand Prix Formula 1 racers, once designing and building 15 race cars in 18 weeks.
The consultancy also has expertise in designing and engineering road cars, having previously built a light weight vehicle, the "Microcab", powered by an on board hydrogen fuel cell. The vehicle was developed to provide an emission free way to transport people and freight around cities, as well as large industrial and sports complexes.
The challenge
Delta Motorsport founders Nick Carpenter and Simon Dowson had been researching and developing low energy vehicles since 2000. Following the establishment of Delta Motorsport in 2005, both were keen to continue developing this to find a way to build more lightweight, sustainable vehicles with increased system efficiency and improved aerodynamics.
As a complex area with new and rapidly developing niche technology, Delta Motorsport needed support and guidance on the best options available for continuing to build their own vehicle - now dubbed the E-4 Coupe. The business sought advice on the type of low energy technology to pursue and assistance in researching what it would need going forward to build a green vehicle with a competitive edge.
The solution
In January 2008 the East Midlands Development Agency (emda), awarded Delta Motorsport with a Grant for Research and Development (GRD) which is part funded by the European Regional Development Fund (ERDF). The GRD worth £220K was used to design and build the prototype low energy vehicle. Through emda the company was introduced to Transport iNet Innovation Advisor James Reeves, with whom they began working on the E-4 Coupé in 2009.
The Transport iNet have given Delta Motorsport with a wealth of support and advice over the last year, providing it with extensive research into new and developing low carbon technologies that would assist the project in its continued build. The Transport iNet helped Delta Motorsport create a business strategy and introduced them to industry bodies that it could work with.
The outcome
With the help from the Transport iNet, Delta Motorsport is building five E-4 Coupés the first of which will be on the road in January 2011. The E-4 Coupé is powered entirely by batteries, which on average reduce harmful emissions by around 67% without compromising performance or driver enjoyment.
The Transport iNet supported the attendance of Delta Motorsport at the nationally acclaimed CENEX Low Carbon Vehicle (LCV) event in 2009 and 2010 where it was able to exhibit itself to leading industry peers and speak to potential customers.
Delta Motorsport is now continuing to develop innovative parts and systems for the E-4 Coupé, which will minimise the weight of the vehicle and optimise aerodynamics and mechanical efficiency. The Transport iNet has recently awarded Delta Motorsport with £15,000 worth of matched funding which it is using to build its latest cutting edge technology, a "torque vectoring" system. The system improves the stability and handling of vehicles by making a sophisticated series of independent adjustments to the torque applied to each driven wheel. The result is an increase in both the performance and the safety of the vehicle.
Nick Carpenter, Co Founder and Technical Director of Delta Motorsport, said: "The investment in Delta Motorsport from the Transport iNet has provided us with a significant understanding of how we can build the E-4 Coupé to a world class standard. Green vehicle technology is still very much a developing area and the support from the Transport iNet has helped us create solutions to a wide range of problems, answering questions we didn't even know we would find. Without having the expertise and support from the Transport iNet, we would have never been able to develop the E-4 Coupe to the standard that it is now.
"The support it has given us at the CENEX LCV events over the last two years has allowed us to make a name for ourselves with leading industry bodies and delve deeper into potential areas that we could work in. The financial support we have received has also been a tremendous support, allowing us to give our vehicle an even more competitive edge. We look forward to our continued work with the Transport iNet."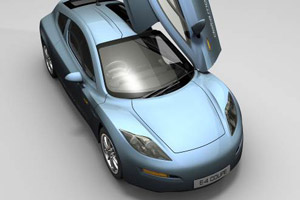 "The investment in Delta Motorsport from the Transport iNet has provided us with a significant understanding of how we can build the E-4 Coupé to a world class standard."

Nick Carpenter, Delta Motorsport